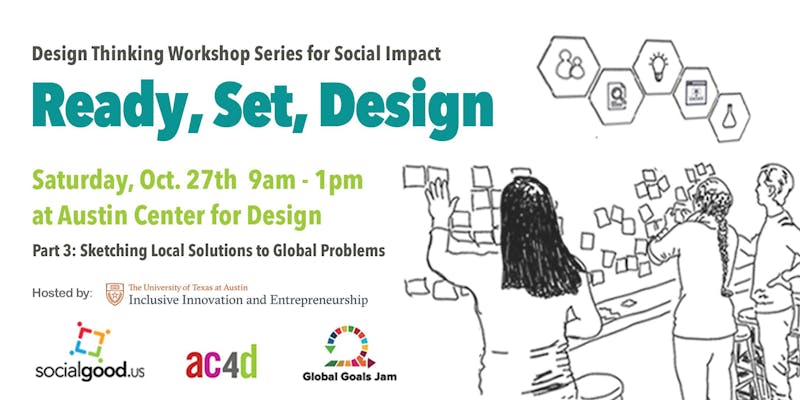 Sketching Local Solutions to Global Problems
Though it might seem like a relatively new concept and buzzword, Design Thinking has been around for quite some time. It's now the moment to see how it can be used to generate solutions and prototypes addressing the world's biggest challenges.
This is a continuation of our series of design thinking for social impact workshops, but if you didn't attend our previous workshops, no worries. We'll catch you up.
This workshop, done in collaboration with Austin Center for Design, will focus on fleshing out ideas related to the following five goals:
Goal 1: No Poverty
Goal 2: Good Health and Well-Being
Goal 5: Gender Equality
Goal 11: Sustainable Cities and Communities
DATE AND TIME
LOCATION
AC4D
1023 Springdale Road #2c
Austin, TX 78721
View Map
What will you learn?
You will learn a step-by-step process for idea sketching and how to ideate and sketch a solution to your problem statement.
You will also get an overview of design thinking and a quick review of the steps of the design process covered in our previous workshop, empathize and define workshop that leads up to sketching.
Who should attend?
Anyone with an interest in learning design tools for sketching with a focus on social impact. Designers will benefit from learning new sketching techniques. Product managers and business owners will learn sketching tools that will allow them to work more closely with designers on their team.
What should you bring?
Participants should bring their favorite pen and sketchbook.
What is included in the ticket?
The ticket covers the cost of the workshop and a brunch.
Useful links and resources:
About SocialGood.us
SocialGood.us is a community platform to advance social innovation, impact, and entrepreneurship in the US. Through community workshops, our accelerator, and media content we help shape and provide a space for learning to help advance our world forward in a more conscious manner.