South Texas Project 1 Year Update and Reporting | Dr. Luis Ponjuan and Research Team
Short Summary:
In this session, attendees will learn about the South Texas Project and preliminary findings from our first year of data collection/analysis.
Maximizing Motivation for Meaningful Movement | Jeremiah Stinnet, Anand Upadhyaya, & Louis Whatley, Dallas College
Short Summary:
An overview at how we as men manage our stress through various coping skills with available resources within schools and communities. From this conversation, attendees will take away practical techniques focusing on navigating through coping skills to employ with the young male student population.
Food & Housing Insecurity: Community College Students Share Their Struggles with Basic Needs | Linda Garcia, Ph.D.
Short Summary:
Throughout higher education, there is an increasing concern about students of color and low-income students experiencing food insecurity, housing insecurity, and difficulty meeting other critical needs. When students struggle to meet their basic needs, learning becomes more challenging, and they are less likely to complete their education. Join us in a discussion as we explore these pressing issues at the national level and bring further attention to the students who endure these hardships.
Speaker Bios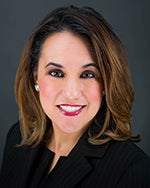 Linda García, Ph.d. – Executive Director, Center for Community College Student Engagement (CCCSE), The University of Texas at Austin.
Linda's experience includes student development, instructional support, grant writing, and teaching. She served as a coach for the American Association of Community Colleges Pathways 2.0 and continues in this same role for the Texas Pathways Project.
Linda earned a Bachelor of Journalism with a concentration in broadcast and a doctorate in higher education administration with a specialization in community college leadership from The University of Texas at Austin. Her Master of Arts in Interdisciplinary Studies degree is from The University of Texas at Brownsville.
Anand Upadhyaya – Program Lead, Male Achievement Program, Dallas College
Anand Upadhyaya has been an employee of Dallas College for the last 25 years. His background is in tutoring, academic support, learning theory, and mentorship. Anand is passionate about the role that education can play in dismantling systems of inequity and social oppression. He has been heavily involved in community activism in Dallas for many years and supports numerous international causes of justice and social reform. His primary focus has been on helping to raise awareness and create change in eastern Congo as well as combatting Islamophobia as a global phenomenon. Anand is an interfaith practitioner and has worked on several interfaith initiatives to create a heathy dialogue among adherents of different faiths.
Louis Whatley, M.S., LPC-S – Professional Counselor, Dallas College
South Louisiana native Louis Whatley is currently a Professional Counselor at Dallas College. His educational background includes a Bachelor of Arts in Sociology from the University of Texas at Dallas and a Master's in Counseling from Texas A&M–Commerce. His experience has consisted of working at a local adolescent shelter for homeless and focused in issues with relating to school truancy, teen pregnancy, depression, anger and aggression. Overall, he has led groups in therapy by presenting educational topics that include anger management, crisis intervention, drug and alcohol prevention, social skills, prevention of school truancy and drop out, college enrollment, job preparation and STD prevention. Formally at a local collegiate high school and currently with Dallas College he has and still conducts workshops regarding men's issues, stress and anxiety while using cognitive and coping skills.
Jeremiah Stinnett, M.Ed. – Program Lead, Male Achievement Program
Jeremiah (Jerry) Stinnett currently serves as the Program Lead for the Male Achievement Program at the Brookhaven Campus of Dallas College. He received his Bachelor of Arts in Human Relations & Master of Education in Adult & Higher Education from the University of Oklahoma in 2016 & 2018 respectively. Prior to his work at Dallas College, he worked as the community relations coordinator, interim director, and program manager for the office of Student Life Social Change at The Ohio State University & as Assistant Director of Student Leadership Programs at The University of Texas at Dallas. He joined Dallas College in October 2021 and is excited to see the future and growth at the college.